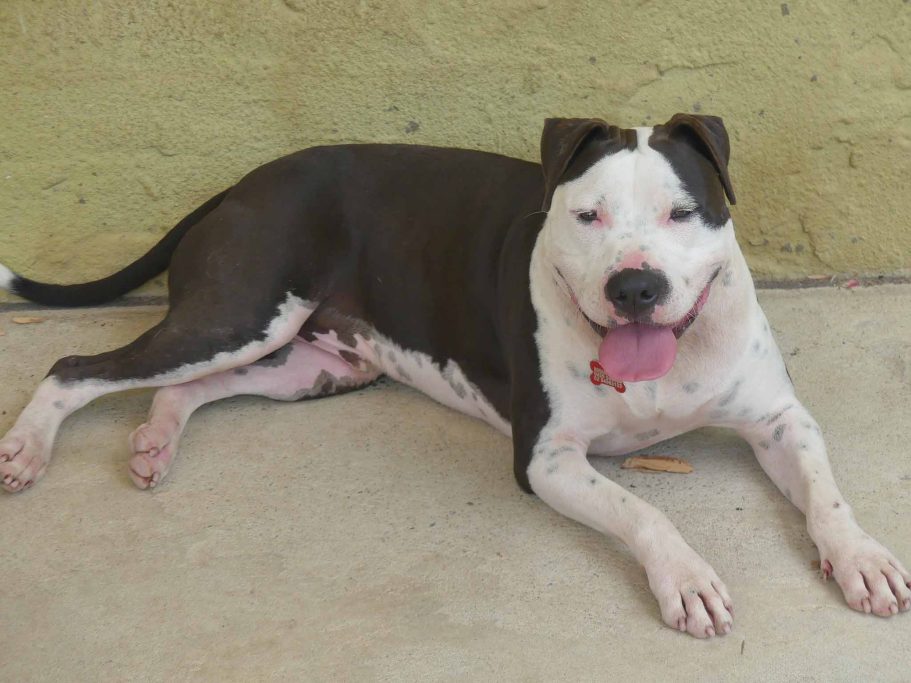 Bennet just loves being out and about.  He was born in November 2021 and in that time has been to many Doggie Rescue events including those involving small and large dogs, people, and even busy city pubs!  But now it is time for him to find his forever home.
He is a Staffy X of average size (about 25kgs) and always excited to be out. He is very inquisitive and friendly to dogs and people alike. He enjoys cuddles and jumps up to lick your face
When invited to go on a walk, he gets very excited and pulls on the lead. He is deceptively strong!  He has had some rudimentary training which has been successful, as he is quite treat-motivated!
He ignores cars, and playfully approaches other dogs. He also likes to run and would be a good jogging companion (until he gets too tired and decides to lie down!)
He has a medical history of some skin allergies and he may need regular "Malaseb" shampoo baths and medicated conditioner.
Bennet's Ideal Home
Bennet will get on just about anywhere!  But for his own well-being we would love him to go to a House with Garden, and where he can get plenty of outside stimulation – at least an hour of outdoor activities and walking a day.
Although he gets on with younger children, we would prefer him to go to a family with older children (or an active child-free family) as he is moderately large, strong and excitable!
Being a Staffy, he loves people, so it would be good if someone was around most of the time.
---
If you think you can provide Bennet  with an ideal home, and are interested in meeting him, please send Monika your details on monika@doggierescue.com or give her a call on (02) 9486 3133.
His public adoption profile is available on our website here: Bennet