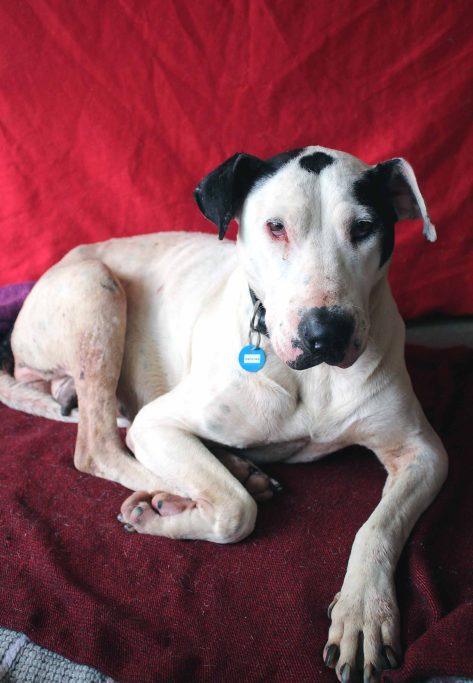 The pound contacted us about Delores:
"I'm reaching out about a 9-10 year old Bull Arab / Staffy. This poor old girl is in appalling condition, she has severe flea dermatitis, terrible teeth and is riddled in tumours. She has a super sweet, calm temperament and is calm around other dogs. This poor girl is so sore and one of her tumours in on her right hock, making it hard for her to even sit."
Delores has been a breeding dog all her life and then was dumped at the pound when she could no longer produce pups. She was not chipped and came under Duty of Care.
We have started bi-weekly medicated washes for her chronic skin condition and yeast infections and eye cream to help the conjunctivitis in her eyes. She has several fractured teeth and periodontal disease that needs attention. She has many mammary tumours and enlarged lymph nodes and may need a full mammary strip. Added to this she has a few skin lumps which need investigation and of course arthritis which also needs attention. Just to top it off she has fungal lesions which look like ringworm.
It is no wonder she is shut down and non-responsive to humans – she just does what she is asked. However when she arrived at our vets she brightened up hugely for some cheese.
Delores, or Dell as we affectionately call her, has a long road ahead of her and we are determined to makes her as comfortable as possible for her remaining years.
If you want to help Dell on her road to recovery please donate to her fundraiser on this Facebook page.  We will keep the Facebook page updated on her progress and make this Christmas the best she has ever had.
Donate by Bank Transfer
If you would prefer to donate by Internet bank transfer, here are our bank details:
BANK:   Westpac Turramurra
ACCOUNT NAME:   DoggieRescue.com
BSB:   032-089
ACCOUNT NUMBER:   155573